Every year we ask the Penna Powers staff to list the top movies they saw. These are the best movies of 2017 that moved, entertained, challenged or inspired us.
Wonder Woman – You'd be forgiven if you had seen Batman V Superman and seriously worried about the viability of a stand-alone Wonder Woman movie. It had all the makings of a train wreck. While the opening Themyscira scenes had some cringe-worthy CW-level posturing and acting, we quickly got pulled into the story thanks to the incredible charisma of star Gal Gadot and Patty Jenkins's assured direction. Wonder Woman, we believe in you.
The Big Sick – You may know Kumail Nanjiani as Dinesh from Silicon Valley fame, but here he nicely dials it back as a struggling stand-up comic who falls back in love with his ex-girlfriend while she's in a coma. Based on true events and written with his now-wife Emily Gordon, we really dug the story and performances, especially Holly Hunter and Ray Romano as Emily's parents.
John Wick 2 – After Keanu Reeves's titular character avenged the death of his dearly departed dog, he thought he could just lead a quiet civilian life. Of course he's mistaken and soon has to kill lots of bad guys in hyper-stylized and brutal ways.
Thor: Ragnarok – After the dreadful Thor:The Dark World, something had to be done to give life to the God of Thunder. Enter Taika Waititi, director of the fantastic faux vampire documentary What We Do in the Shadows and the quirky brilliant Hunt for the Wilderpeople. Pretty much directing a Thor/Hulk buddy movie, he brings a desperately needed dose of humor and buoyancy before the Marvel Cinematic Universe's dour slide into the Infinity Wars.
Dunkirk – Some movies must be seen in a movie theater – Dunkirk is one of those movies. Director Christopher Nolan out-Nolaned himself once again by delivering a war movie that defied all of the usual conventions associated with the genre, all in under two hours. You're provided absolutely no back story to any of these characters. There's no helpful historical context (although a title card provides some), no explanation of what a "mole" means or preparation for the three timelines depicted. You're dropped into it just like the film's non-descript soldiers. It's basically a horror movie masquerading as a war survival tale. And it's an amazing cinematic experience.
Get Out – Call it a horror film, comedy, social parable or whatever else you want, Get Out managed to capture the zeitgeist of racial anxieties in a Trump-presided America. Comedian Jordan Peele (of Key and Peele fame), nails his directorial debut with a tale that will literally get under your skin. If you went to the theater to see M. Night Shyamalan's creepy Split, you probably saw the Get Out trailer and thought, "What the hell?". No, not hell, just the Sunken Place.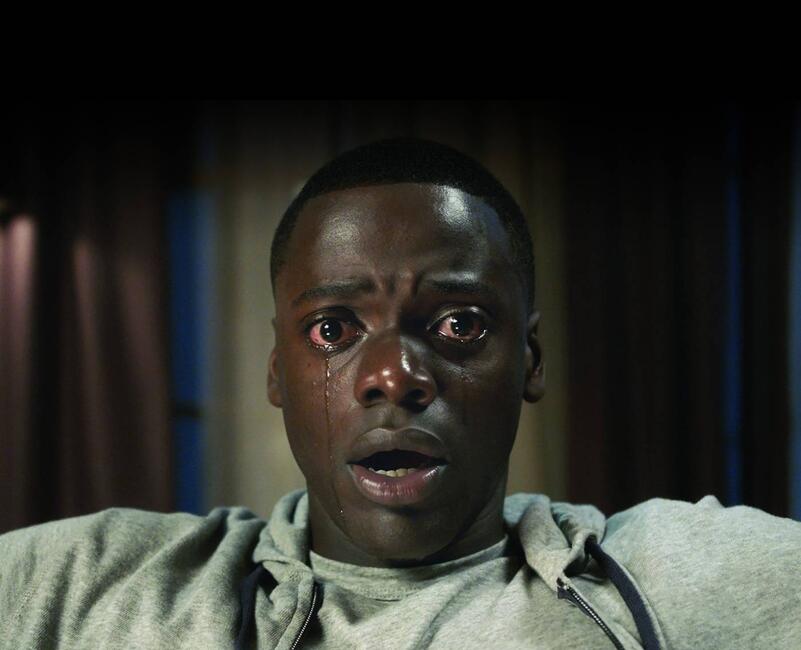 Logan – Marvel got serious with Hugh Jackman's last performance as the iconic Wolverine. It pretty much amounts to a graphically violent 2017 comic-book version of the western Shane-meets-Unforgiven. It has some killer moments, like when a dementia-afflicted Professor X nearly destroys the world, or at least Las Vegas.
Blade Runner 2049 – Not everyone's cup of tea, but neither was the original. Why anyone gave acclaimed director Denis Villaneuve (Sicario, Arrival, Prisoners) this much money to direct a 3-hour sci-fi art film is beyond movie studio logic. But hey, we dug the outcome. If you loved the first film (before it became a cult classic that you were obligated to love), then you probably loved this.
It – Who would've thought a Stephen King-adapted September movie release would become the highest-grossing horror movie of all time? Riding Stephen King's coat tails doesn't always result in box office success (for every Shawshank Redemption, there's a Dreamcatcher), but the marketing team deserves an Oscar for properly seeding the sinister trailer that suddenly got everyone excited about killer clowns. We can now properly bury the horrible TV movie adaptation starring Tim Curry.
You might ask yourself, "That's all very well and good, Penna Powers, but where is The Last Jedi?" Great question! Well, it's not because it went unseen at press time. It's just that there are too many fan boys here who have religiously studied the Jedi scrolls and have declared The Last Jedi a blasphemous mess. Some of us vehemently disagree, but not enough to get the movie on the list. We're terribly sorry – all apologies to director Rian Johnson for having the chutzpah to try something different.
Honorable Mentions: Guardians of the Galaxy Vol. 2, Baby Driver, Call Me By Your Name, Alien: Covenant, A Dog's Purpose, Wonder, Wind River, Logan Lucky, Three Billboards Outside Ebbing, Missouri, The Last Jedi, The Disaster Artist, Girls Trip
So what made your top 10 movie list this year? Please please share in the comments!